🖨️straightforward printing on cardboard boxes🖨️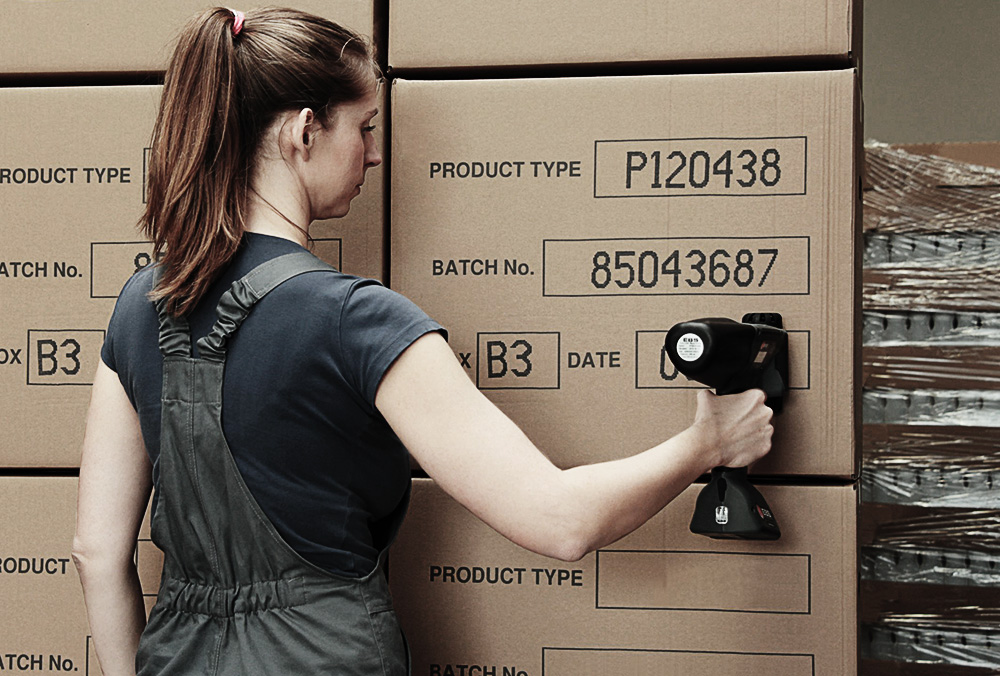 🖨️printing on cardboard drums🖨️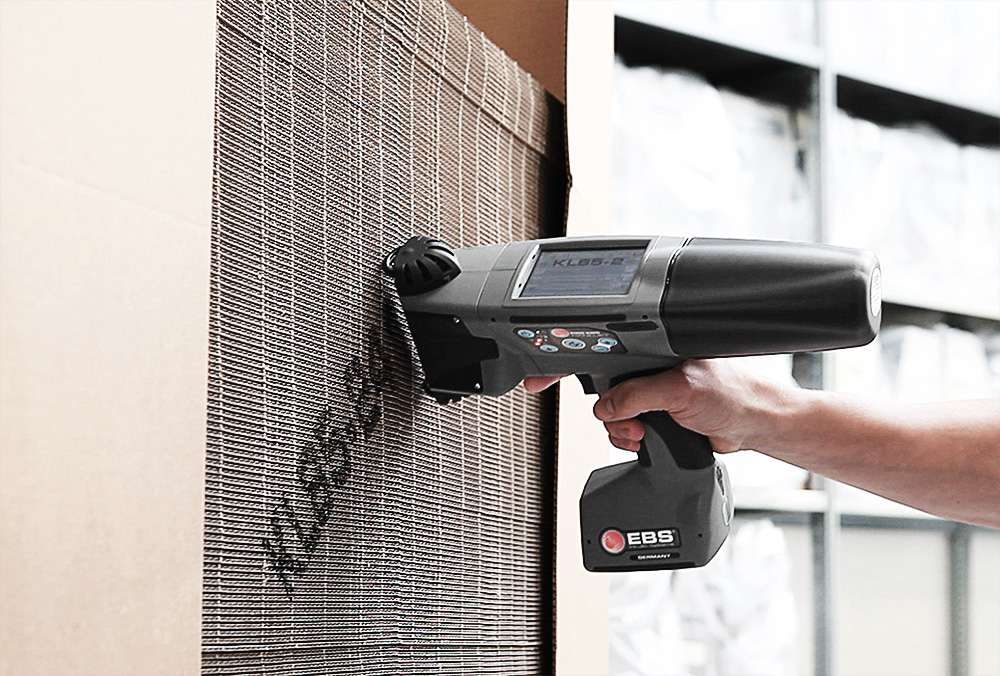 🖨️even on piles of unfolded boxes🖨️
With the EBS-260 you can create long-lasting marking on concrete prefabricates, such as: rings, manholes, pipes, fittings, culverts, stairs, stands; and also print in tricky places such as the inside of fittings.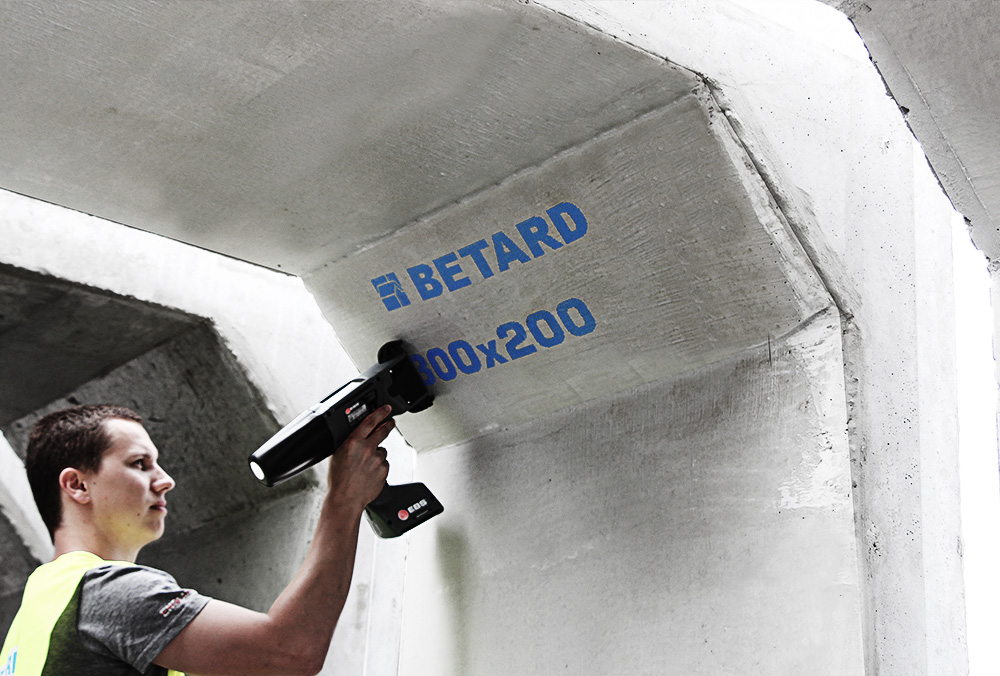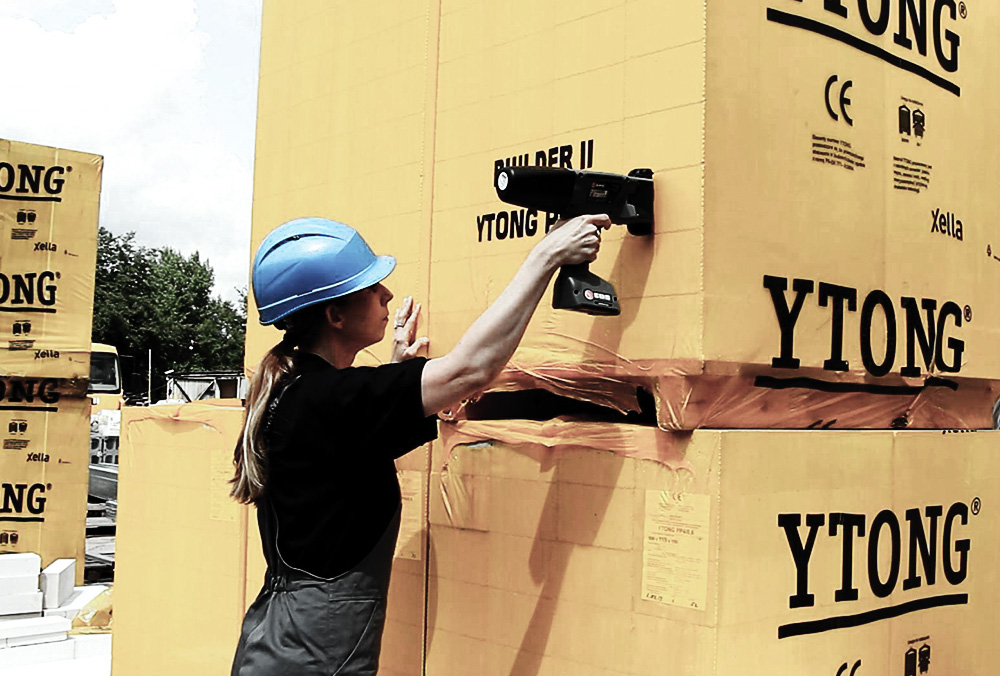 With this handheld printer you can also mark pallets of shrink-wrapped building materials, e.g. bricks, hollow bricks, small blocks, curbstones, etc.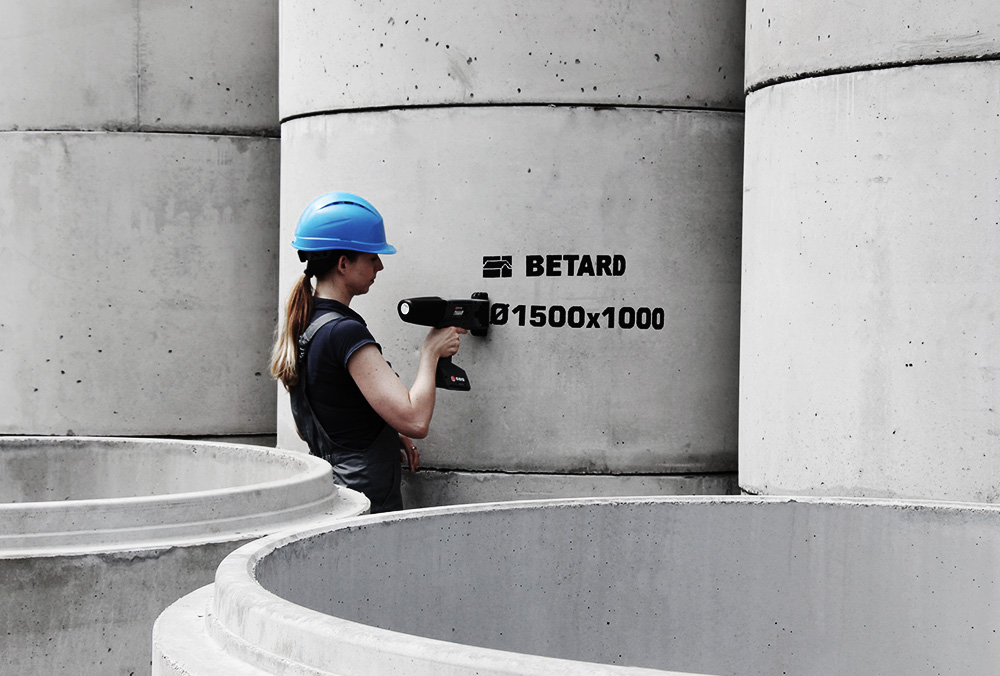 Ink for printing on concrete is highly resistant to varying weather conditions, including UV radiation for a longer period.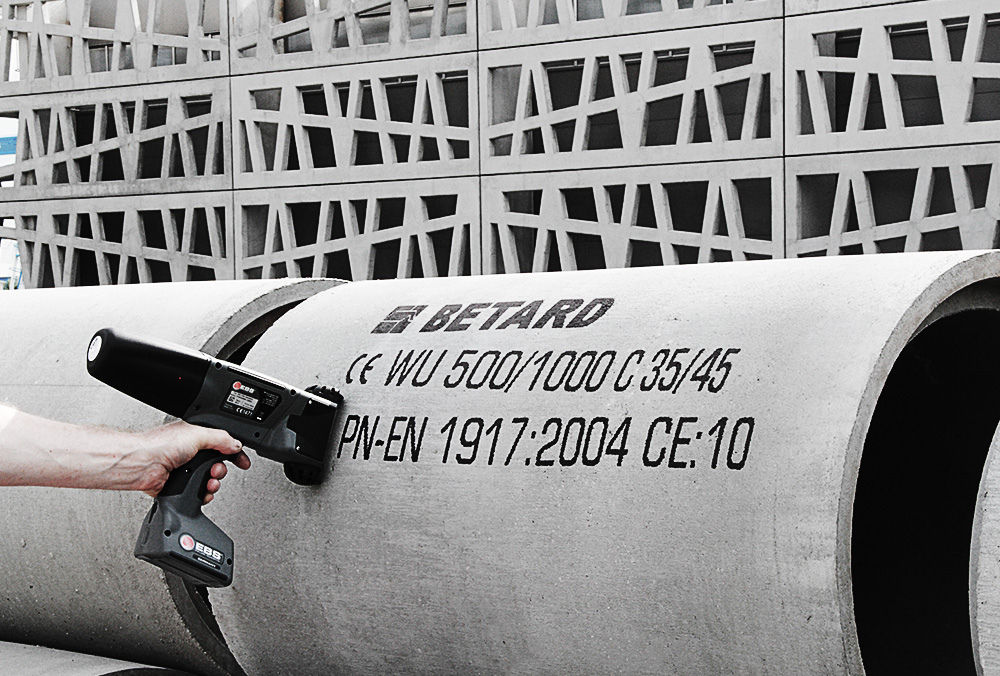 The inks used here are highly resistant to harsh weather, including UV radiation.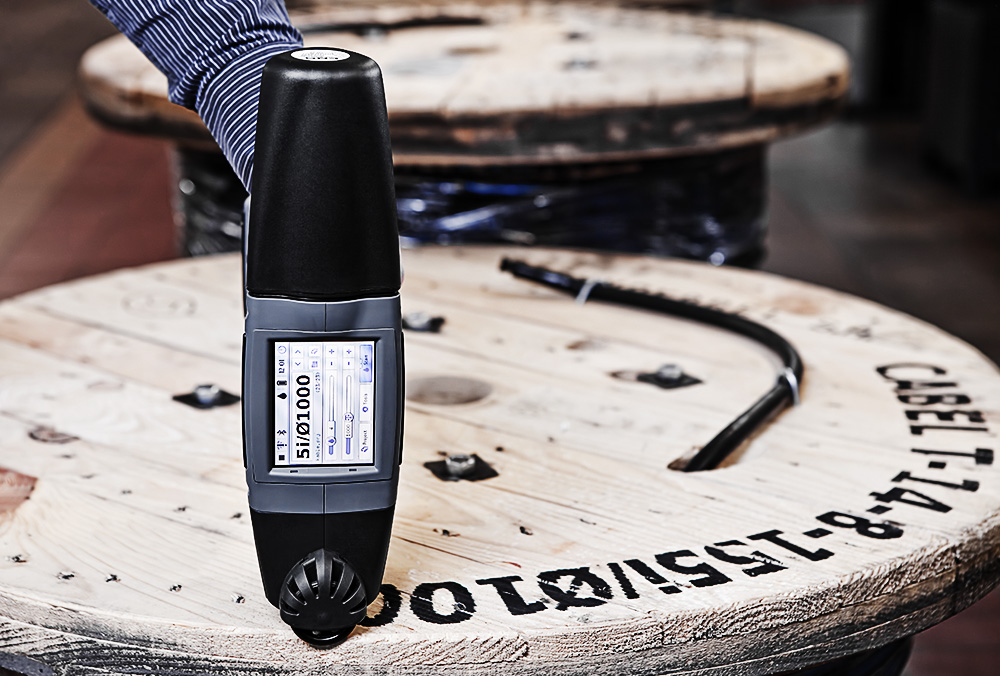 A proven tool for marking wood based products, such as boxes, crates, pallet-boxes or cable reels,
the EBS-260 can also be used for marking products stacked on pallets, e.g. chipboard, plywood, planks, square-sawn timber, etc. and many others.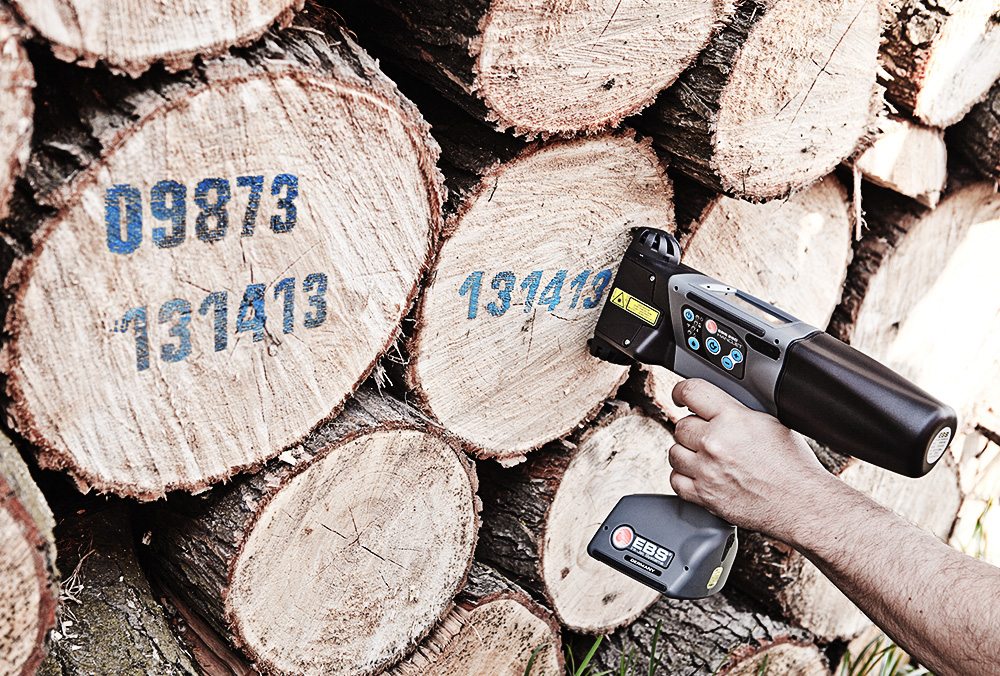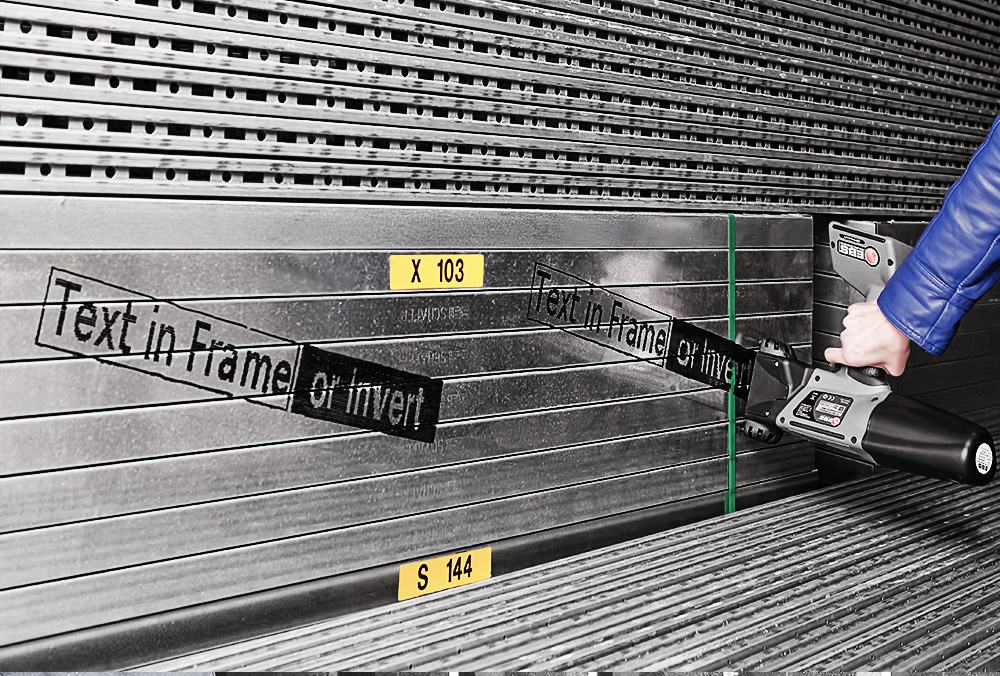 With it, you can efficiently mark steel structures, steel mill products (among other things flat metal sheets and rolled sheets) and finished prefabricates, e.g. parts of big machines, not to mention; tubes, bars and rails and, and, and鈥︹︹
Our printer is suitable for marking tubes, bars and sections.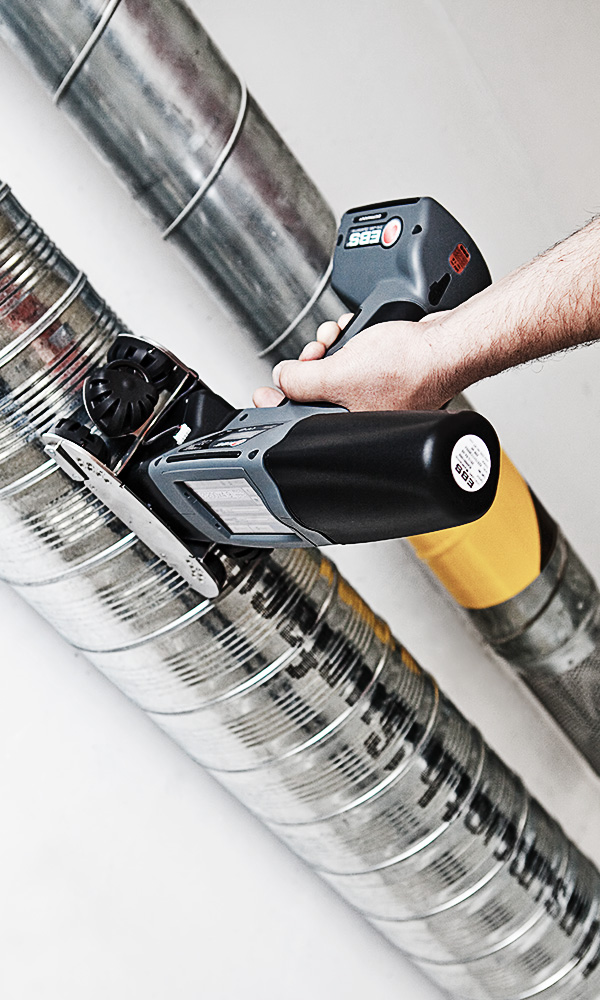 Use it for printing on practically any sized plastic containers, tanks, cisterns, drums and barrels.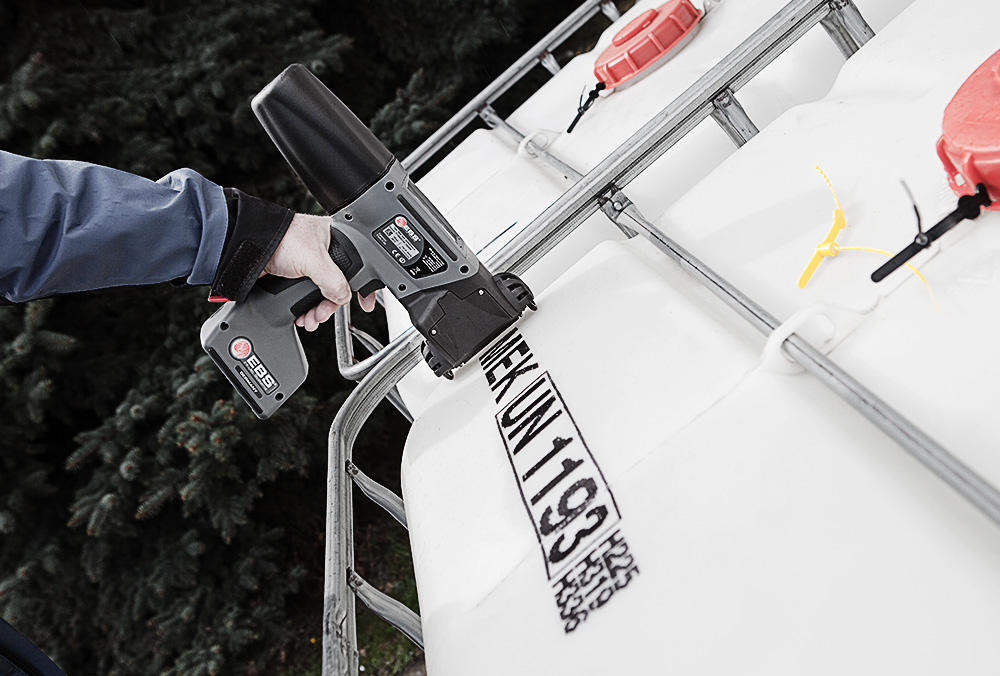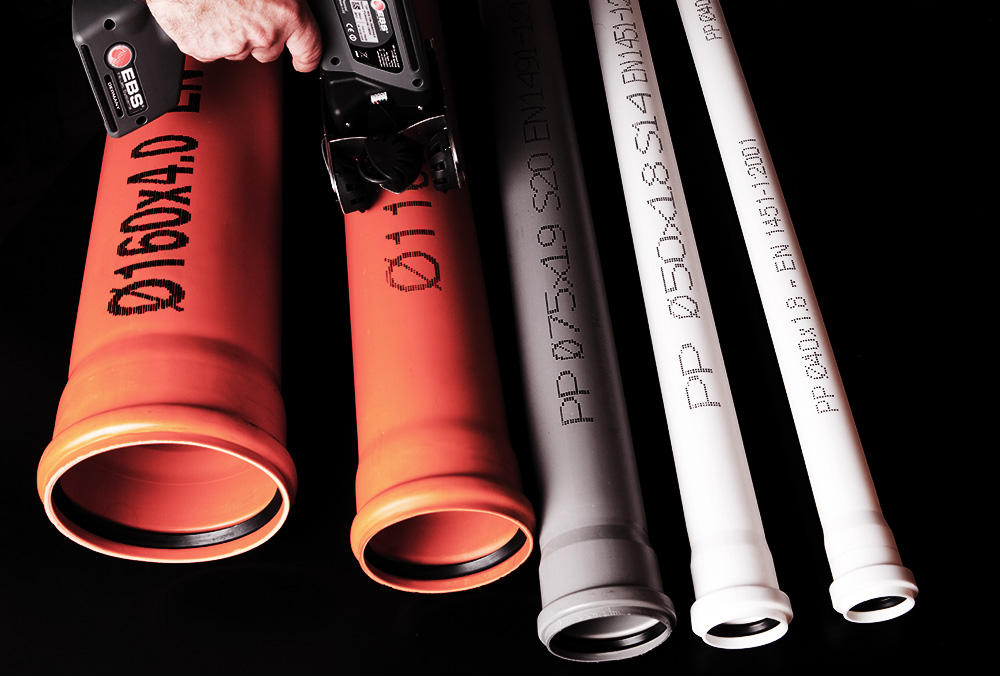 Take the EBS 260 for marking of artificial surfaces, such as PVC, PP, PT, both hard and flexible, e.g. shrink-wrapped products, pipes, hoses, etc.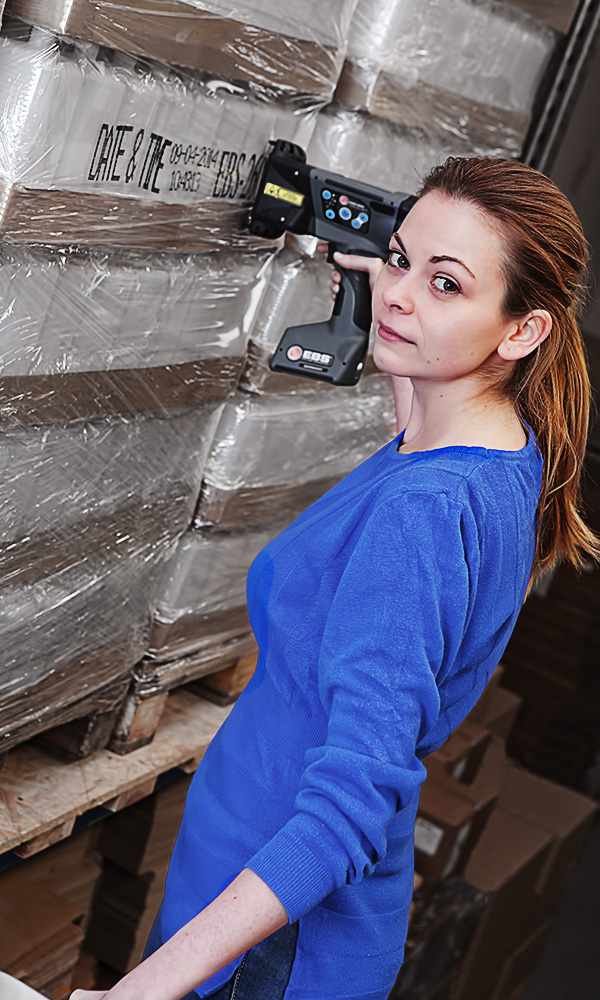 Do it with the EBS-260  for fast and clean printing.
Use it for marking carpets, linings, covering, upholstery of irregular shapes and structures it simple and convenient.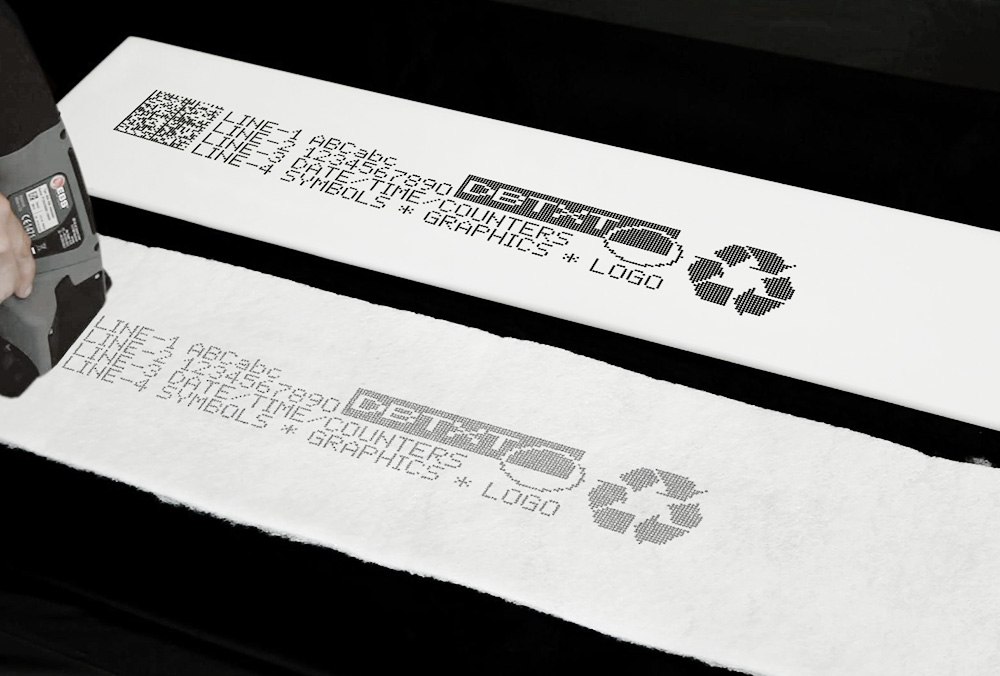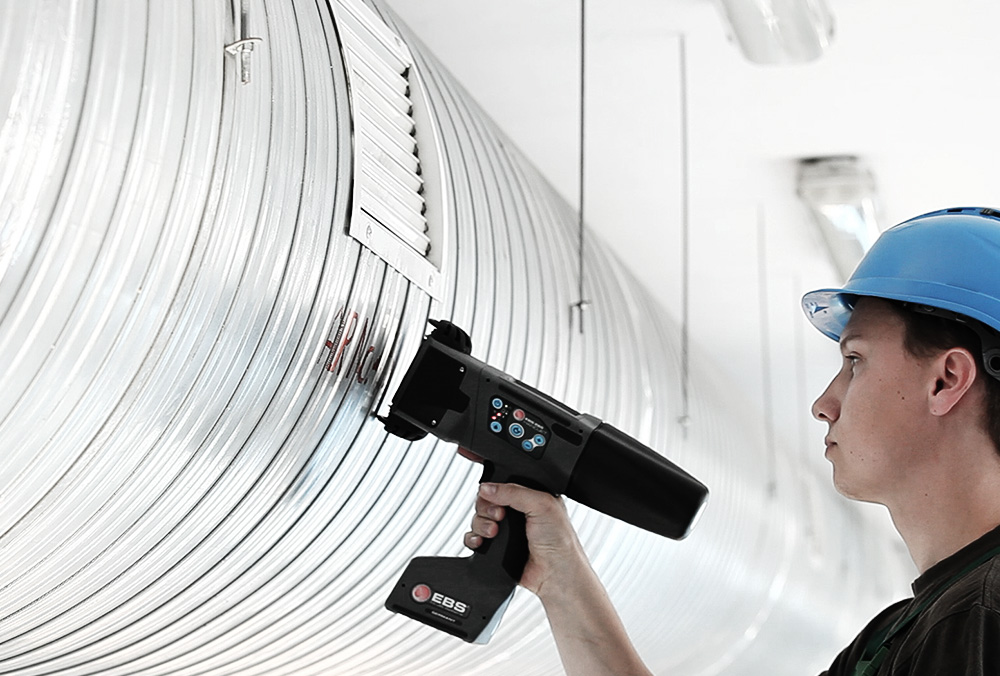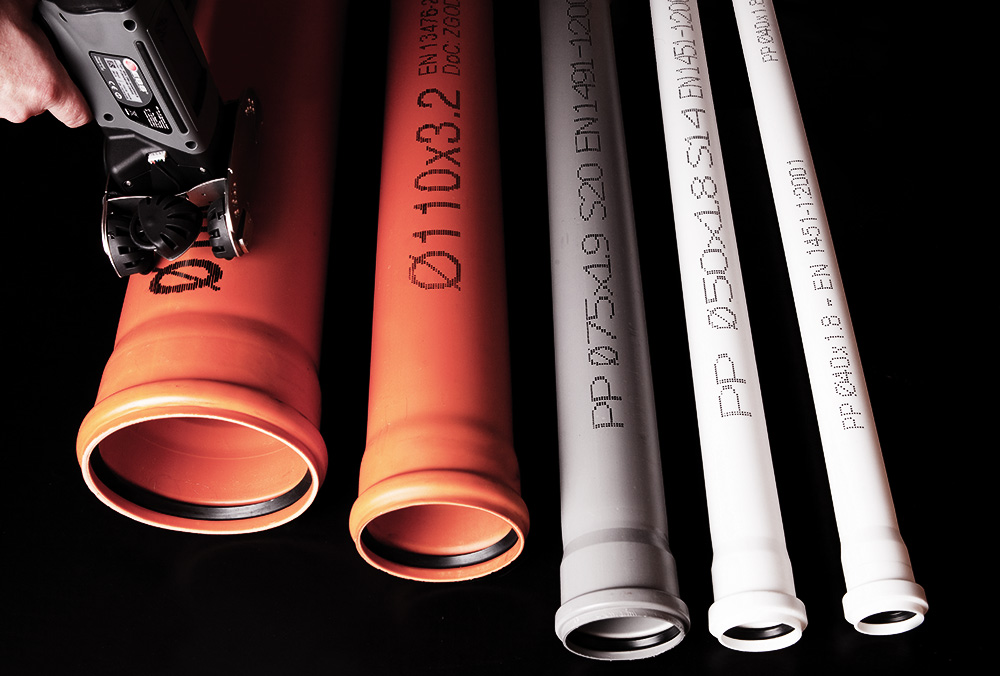 Using the mobile EBS-260 printer is the ideal solution for quick marking of bulky objects which, owing to their size or weight just cannot be moved.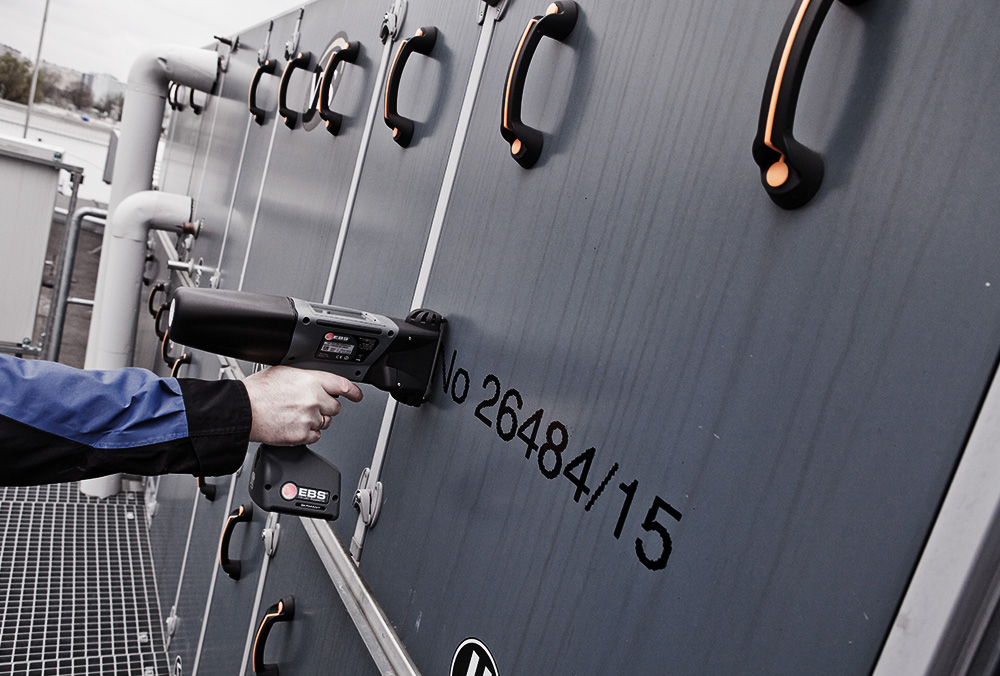 For example, printing on containers, tanks, cisterns, drums, barrels etc.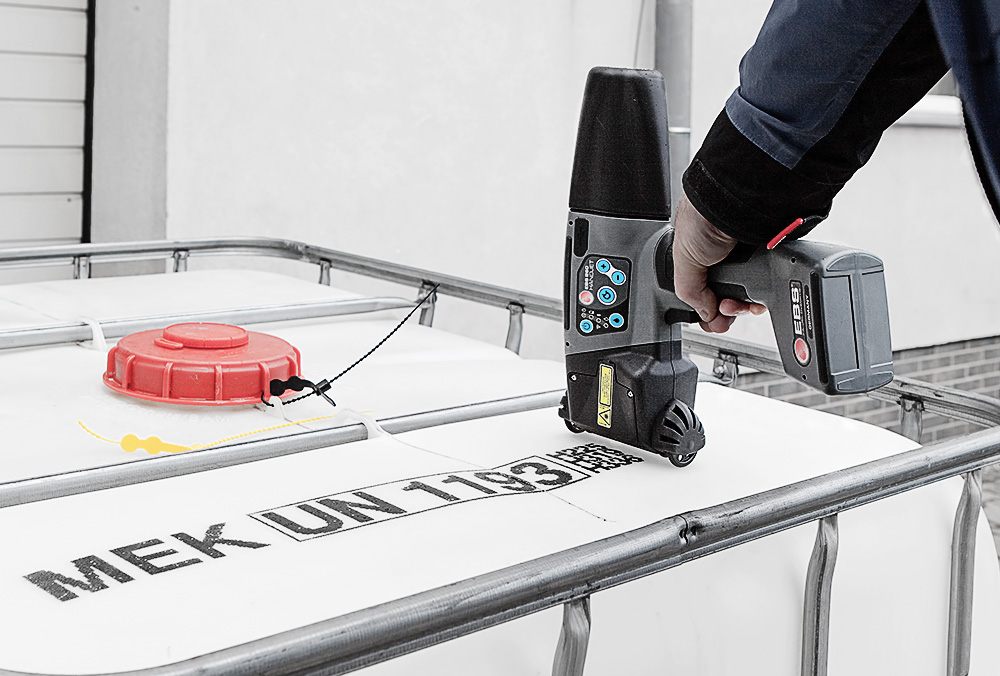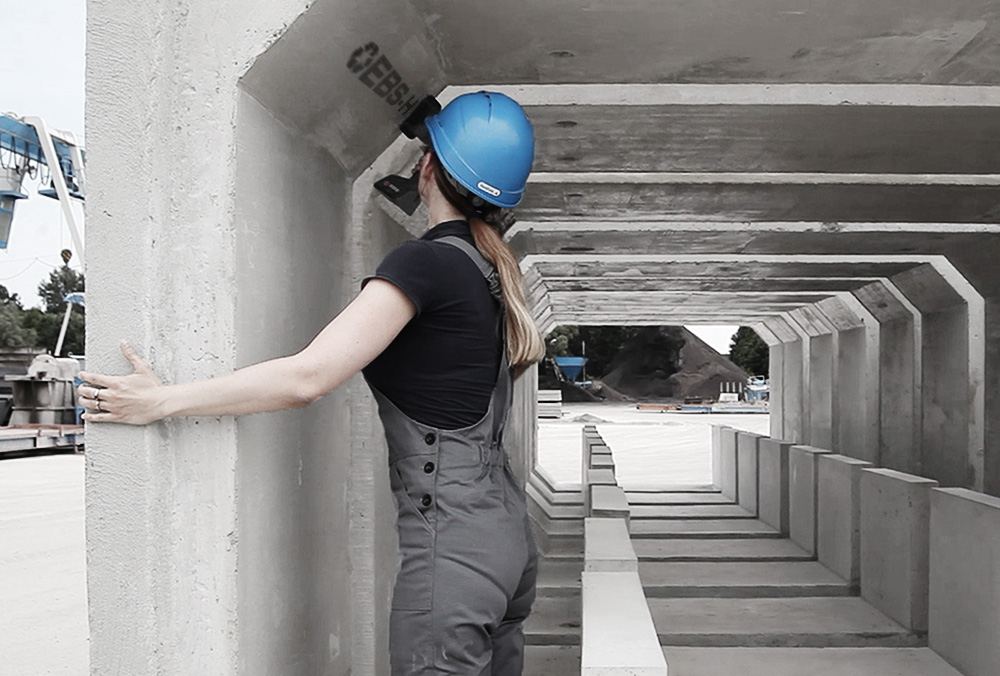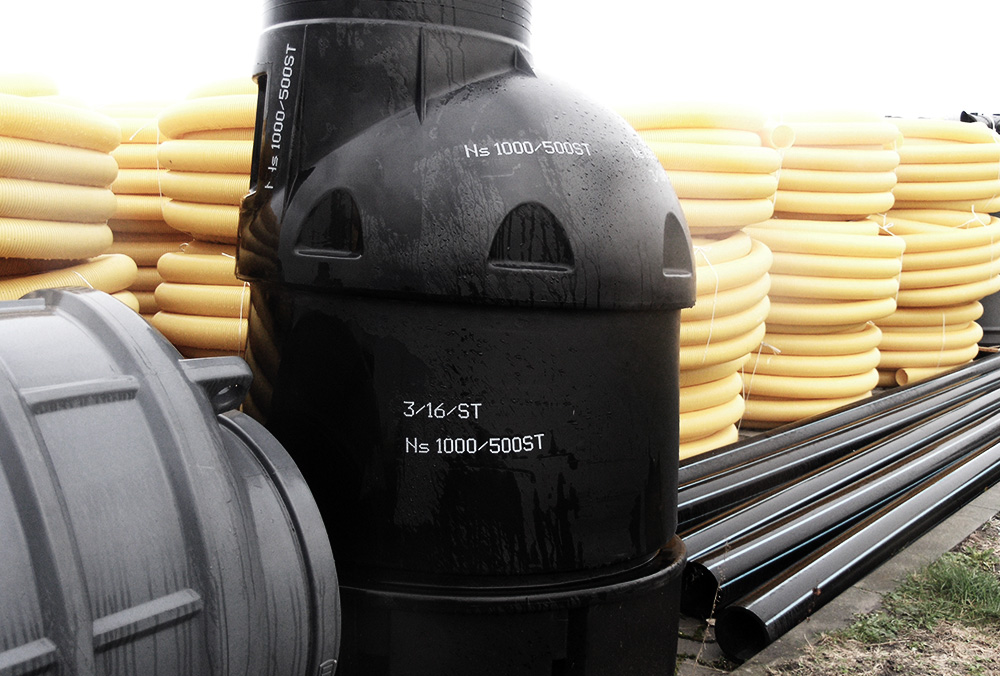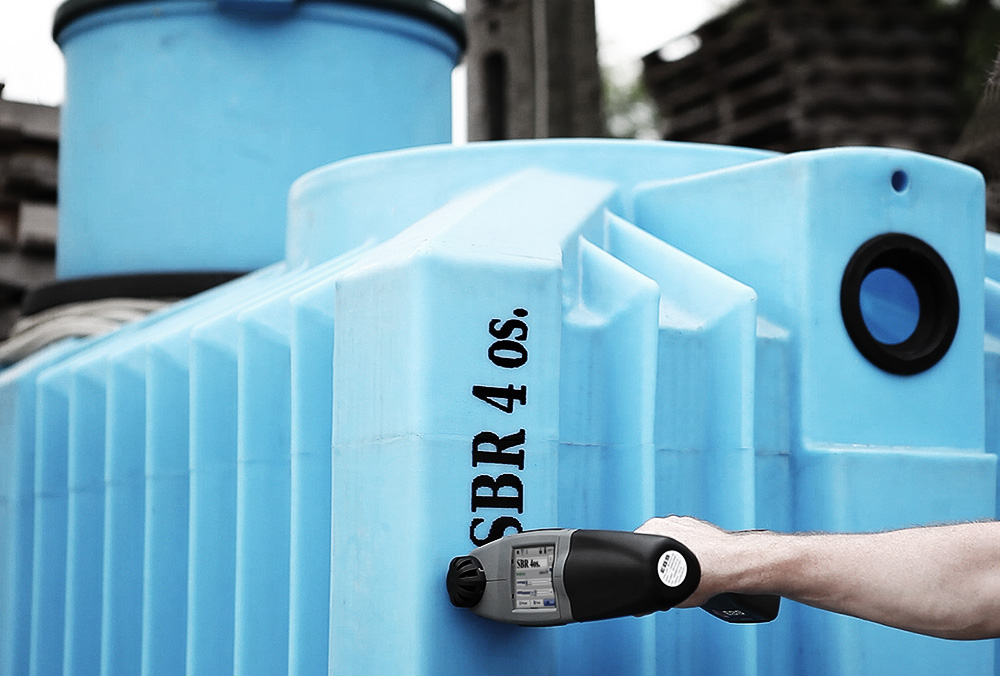 Sophisticated functions allow change in the direction and orientation of printing.
Printouts can be made from left-to-right and right-to-left, up-side-down and mirrored, as well as along curved lines.
These drawings are explanatory only and do not reflect real printouts fully
🖨️No need to restrict yourself to one line🖨️
Every project can contain even up to 5 lines of text (for a 5脳5 dot matrix).
🖨️The multi-line🖨️
The multi-line function is another advantage, which enables you to set up to 10 subtexts with various contents as part of one project, whereby each subtext may contain up to even 5 lines of text. This can be used for printing varying texts in different places on an object.

The WiFi connection allows for creation of a multi-printer network that can be managed from one computer.
This enables for the speedy transfer of a multitude of printing projects between computer and printer; or between printers, and remote computer editing of projects stored in printer memory with a user-friendly and convenient text editor, as well as wireless installation of printer software. All of which facilitate remote control of the printer status, battery level, and allow for switching off the printer.

Bluetooth
Bluetooth technology allows for wireless data transfer between the printer and other Bluetooth-equipped devices, such as barcode scanners, scales, industrial robots, cell phones, computers and tablets.
Transmitted data can be printed immediately, or used to select content for printing. But also, the data can be being modified in the printer, after transfer, and before printing.

USB
A USB port allows for fast transfer and archiving of projects (by data import/export), for copying of large quantities of graphics and fonts  as well as for instant replacement of printer software.
The EBS 260 printer uses a wide selection of quick-drying dye-based and pigmented inks, which are made on the basis of ethanol, acetone, methyl ethyl ketone (MEK) and water.
The inks are available soon in various colors, including black, red, white, yellow, blue, which ensure good contrast on light and dark surfaces.
Also special ink types are available. Such inks are:
resistant to a temperature of up to 250C over a maximum of 40 s 鈥 for printing on hot objects,
certified as fit for contact with food, for direct printing on food and foodstuff products (water and ethanol based inks),
highly resistant to UV radiation
Most inks are multi-purpose, that is; they can be printed on a variety of surfaces. There are also special purpose inks available, e.g. for printing on concrete or inks that are mostly resistant to deterioration when exposed to ultraviolet radiation.
| | |
| --- | --- |
| | Universal ink for almost all surfaces, heat-proof up to 250掳 for up to 40 sec. |
Accessories
The printer is available in a convenient carrying case, which can be used both for storage and transport.
The entire set also includes a power adapter (24V/1.25A), for recharging the batteries, power adapter cable, an ink container and a spray bottle for ink cleaner.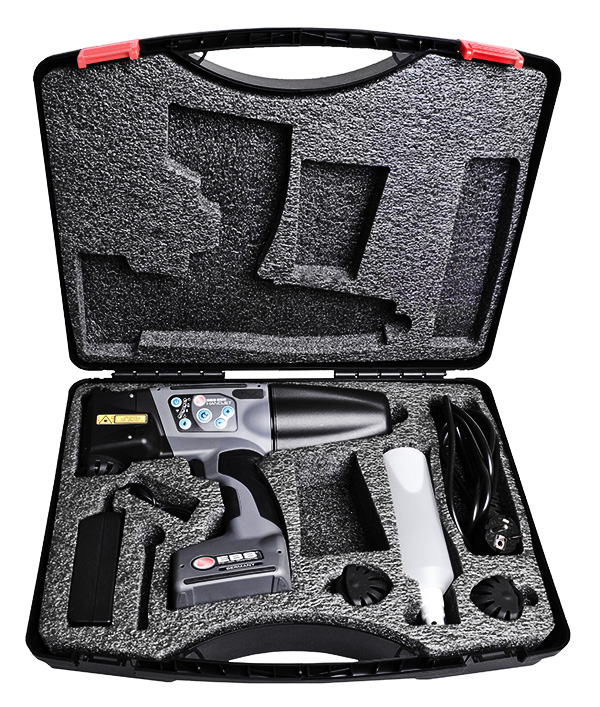 🖨️oll Guide to Support Printing🖨️
Additional equipment includes supporting stabilisors for certain applications, such as printing a perfectly straight line or for printing on cylindrical surfaces.
Axial printing on cylindrical surfaces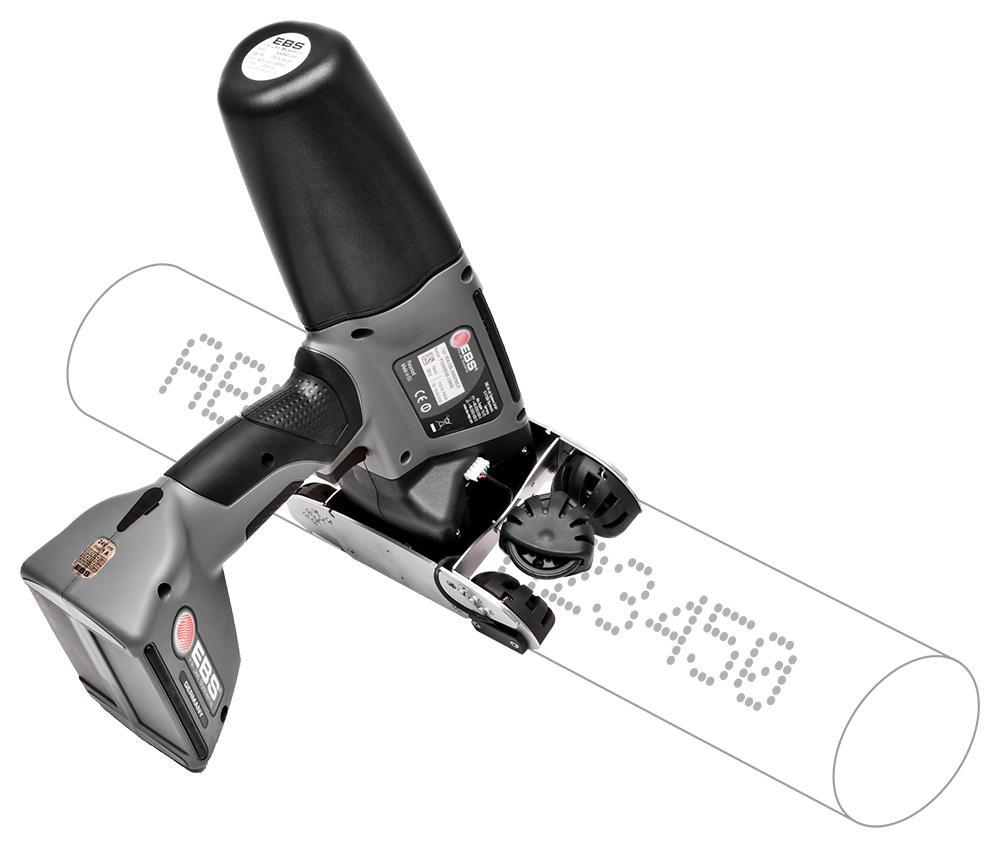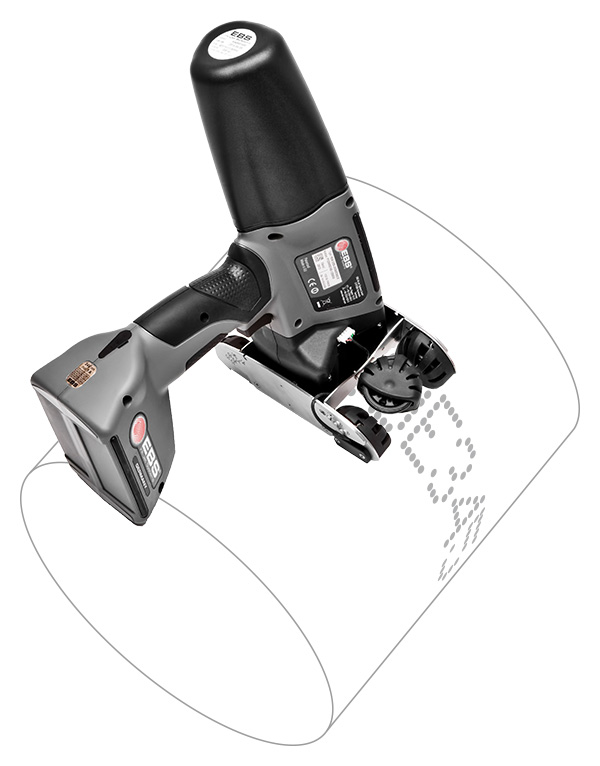 Radial (circumferential) printing on cylindrical surfaces
Supporting circumferential printing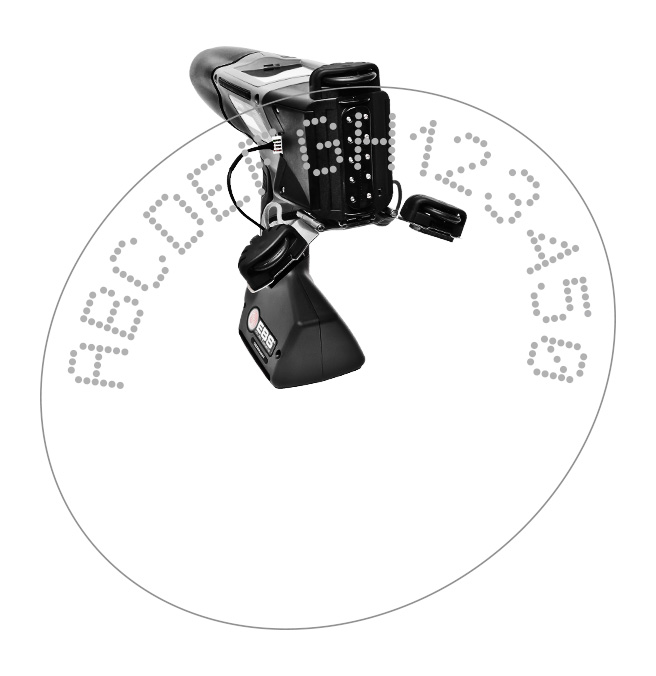 Printing on flat surfaces with the application of a roll guide, which supports rectilinear printing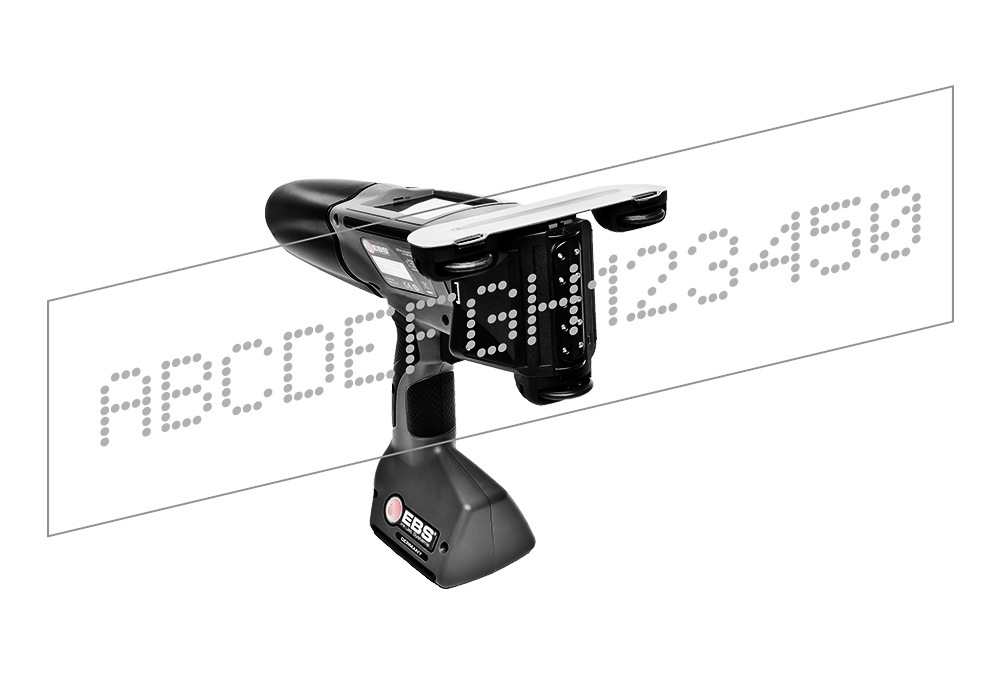 Dimensions and weight

Length: 330 mm

Width: 88 mm

Height: 277 mm

Weight: 1580 g (printer with battery and full ink container, without power adapter and cable)

Printer control

On printer LCD screen

Via web browser (EBS Web User Interface editor  for online and offline operation)

Communication

Wireless radio link, Wi-Fi 2,4 GHz

Range up to 100 m, depending on landform features

Interface languages available

English, German, Polish, Russian, Italian, Chinese

Other languages can be added easily.

Print parameters

Printout height from 11 to 57 mm

Height of object to be labeled from 39 mm to 115 mm

Number of text lines in one run: Up to 5 lines (for 5脳5 dot text matrix)

Print lining  using multiple lines in one design: up to 10 printouts in one project (e.g. various contents in different places on an object)

Printhead

32 nozzles

Standard nozzle diameter: 150cm

Optional: 120cm, 170cm, 200cm

Height of object to be labeled: from 39 mm to 115 mm.

Print synchronized with speed of lower guide roller

Memory

Amount of texts with print parameters is limited by printer memory  2 GB, as standard

Special registers

Dynamically adjusted text content in response to an event or action

Date and time in any format
Valid thru datei
Counter:

Count up
Count down
Cascade counters

Bar codes
Data sent from external devices and computers (e.g. from databases)

Battery and Power

Estimated run time with battery fully charged

Up to 16 hours

Calculated for 60 printouts of 1 m in length, 550 dots/meter per hour, at about 20掳C.

Power supply

Battery  6 Lion battery pack. Capacity: 4400 mAh

Automatic low-battery charge

Battery re-charging

Automatically with the power adapter DC 24V / 1.25 A

Charging time  under 300 minutes (< 5 h)

Charging cycles: 500 (a minimum of 70% of initial capacity)

Ink

Monochrome

Available in easily detachable containers

Available colors:

white
yellow
blue
green
red
black

Inks based on acetone, ethanol, MEK or water.

Capacity of ink container: 200 ml

Fonts

Built-in TrueType fonts and EBS fonts in matrices: 32*24, 25*19, 16*10, 12*7, 7*5, 5*5, China11, China16

Graphics (logos, special characters)

Texts and graphic symbols can be edited and printed with True Type fonts and UTF-8 coded (for inclusion of regional alphabet characters).

Graphic symbols, warning or transport marks, etc. 鈥 free raster graphics up to 32 dots in height.

Shapes:

lines
ellipses
rectangles

Technical parameters

Position and attitude of printer in use: Any

Operating pressure: 0.015 MPa up to 0.045 MPa (0.15 bar up to 0.45 bar)

Operating temperature: from +5C to +40C

Storage temperature (over longer time):

From +1C to +45C for printer with water-based ink
From -10C to +45C for printer with inks based on MEK or ethanol

Humidity: up to 95% without steam condensation  for temperatures above dew point (it can operate when it rains, as long as printed surfaces are dry).